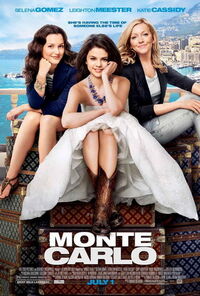 Monte Carlo is a 2011 American romantic comedy film directed by Thomas Bezucha. Nicole Kidman, Denise Di Novi, Arnon Milchan and Alison Greenspan produced the film for Fox 2000 Pictures and Regency Enterprises. It began production in Harghita, Romania on May 5, 2010.
Monte Carlo stars Selena Gomez, Leighton Meester and Katie Cassidy as three friends posing as wealthy socialites in Monte Carlo, Monaco. The film was released on July 1, 2011. It features the song "Who Says" by Selena Gomez & the Scene and numerous songs by British singer Mika.
Ad blocker interference detected!
Wikia is a free-to-use site that makes money from advertising. We have a modified experience for viewers using ad blockers

Wikia is not accessible if you've made further modifications. Remove the custom ad blocker rule(s) and the page will load as expected.