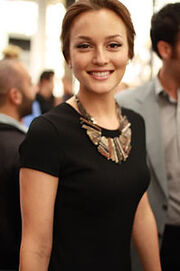 Leighton Marissa Meester
(born April 9, 1986) is an American actress and singer. Meester first garnered attention and critical acclaim for playing Blair Waldorf in the CW's teen drama television series Gossip Girl. She most recently appeared in the 2010 country drama film Country Strong, the 2011 thriller The Roommate, and the 2011 romantic-comedy Monte Carlo.
She portrayes Meg Kelly.
Ad blocker interference detected!
Wikia is a free-to-use site that makes money from advertising. We have a modified experience for viewers using ad blockers

Wikia is not accessible if you've made further modifications. Remove the custom ad blocker rule(s) and the page will load as expected.