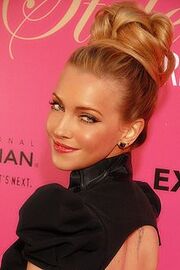 Katherine Evelyn Anita "Katie" Cassidy
(born November 25, 1986) is an American actress who has performed in The CW TV series Melrose Place, Supernatural, Harper's Island, and Gossip Girl, and on the films When a Stranger Calls, Black Christmas, A Nightmare on Elm Street, Taken, Monte Carlo, and has roles in the upcoming film Fencewalker.
She portrayes Emma Perkins.
Ad blocker interference detected!
Wikia is a free-to-use site that makes money from advertising. We have a modified experience for viewers using ad blockers

Wikia is not accessible if you've made further modifications. Remove the custom ad blocker rule(s) and the page will load as expected.