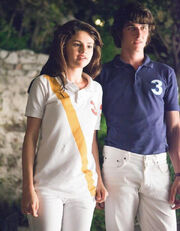 Grace Anne Bennett (Selena Gomez) is one of the three main characters of the film who looks a lot like a spoiled British heiress named Cordelia Winthrop Scott. She is a teenager, living in Texas, who works as a waitress whilst preparing to graduate school.
She has an older stepsister called Meg and a quirky best friend named Emma who she ends up travelling to the French capital of Paris with.
Ad blocker interference detected!
Wikia is a free-to-use site that makes money from advertising. We have a modified experience for viewers using ad blockers

Wikia is not accessible if you've made further modifications. Remove the custom ad blocker rule(s) and the page will load as expected.